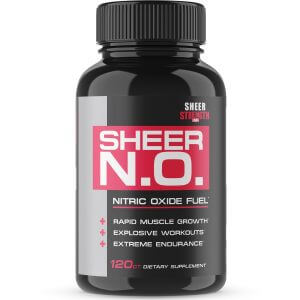 Nitric Oxide
Another powerful supplement you can take as part of your body building program is nitric oxide. Many body builders take nitric oxide for a variety of reasons.
Nitric Oxide, a key molecule manufactured by the body, causes vasodilation [an expansion of the internal diameter of blood vessels], which in turn leads to increased blood flow, oxygen transport, delivery of nutrients to skeletal muscle and a reduction in blood pressure.
Nitric oxide promotes extended ability to life weights.
It also signals muscle growth, speeds recovery, and increases strength along with stamina.
This element also increases energy levels and some people even feel that it promotes a better sex life!
During a workout, when a muscle contracts and blood vessels dilate, Nitric Oxide is present for a brief moment.
The release of nitric oxide creates surges of blood flow, which is the muscle pump we are familiar with. Unfortunately this pump is only temporary, and will dissipate shortly after you complete your workout.
It often comes in pill form, and should be taken in the manufacturer's recommended dosage.
Nitric oxide also comes in powder form as well, so you can take it in a shake just like with other powdered supplements.
Steroids and Growth Hormones
We're not going to spend a lot of time on these types of supplements because they are certainly not recommended, but they are used by body builders all over the world.
Both of these substances are highly controversial, and in many places, they are illegal.
Steroids and growth hormones stimulate muscle growth often quite quickly which is why they are so popular among body builders. They also enhance performance making a person stronger and extending their stamina.
Steroid use is generally not condoned in the sports world and constant testing is done of the athletes to see if they are getting an unfair advantage by using steroids or growth hormones.
Steroids do have some advantages. They are used in treating a variety of health problems including AIDS, cancer, and other serious diseases. They help the body fight the ill effects of these diseases and promote healing.
However, steroids have some serious health implications when taken for reasons other than therapeutic. They can cause serious liver damage and even lead to liver failure.
Steroids increase testosterone production which can lead to overly aggressive behavior, a decrease in libido, and low sperm count.
The reason many body builders use steroids is because they increase water retention in the muscles which leads to an anabolic state.
However, this increase in fluid retention makes the heart work harder which can increase blood pressure and even bring on a heart attack.
All steroids eventually change to estrogen which causes feminization in men. That causes an enlargement of the breasts along with an increase in fatty deposits.
Growth hormones stimulate the elements in the body that make muscles grow. They are naturally produced by the body, but many body builders take them to basically tell their muscles to get bigger. They can be dangerous, though, as well.
You can get huge, ripped muscles without having to resort to using illegal substances like steroids or artificial growth hormones.
They can make you bigger quicker, but the disadvantages far outweigh the advantages you are taking by introducing these substances into your body.